Our research efforts included: 
This section includes findings from ADU owner and city planner surveys, as well as the analysis of the California Department of Housing and Community Development's Annual Progress Report (APR) data.
The number of ADU permits issued across California increased from almost almost 9,000 in 2018 to 12,392 in 2020. From 2018 to 2020, Californian jurisdictions permitted 33,881 ADUs and 22,695 ADUs were added to the state's housing supply.
ADU production is generally occurring in diverse, transit-accessible neighborhoods where a greater share of homeowners have recently purchased their homes and still have a mortgage.
Homeowners with an ADU are much more affluent and less likely to identify as Hispanic or Latine than the typical Californian homeowner.
Although lower income and lower resource communities in Los Angeles County are constructing a large share of ADUs, a majority of ADU production takes place in areas with high home values and incomes, such as the San Francisco Bay Area.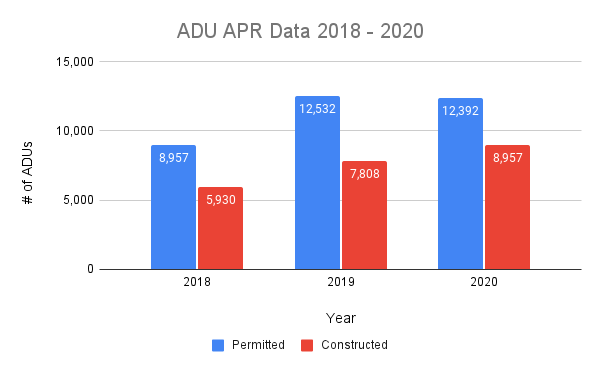 Physical ADU characteristics
The majority of California's new ADUs (61%) contain just one bedroom, with studio units being the second most popular unit type (18%). Units with two or more bedrooms only account for 21% of the ADUs in the state.
Overall, 92% of ADUs are built on parcels zoned for single-family residential, but about 2% are being built on lots with duplexes, triplexes, or fourplexes, suggesting that the move to build missing middle" housing has already begun.
The majority of new ADUs (53%) in California are detached units.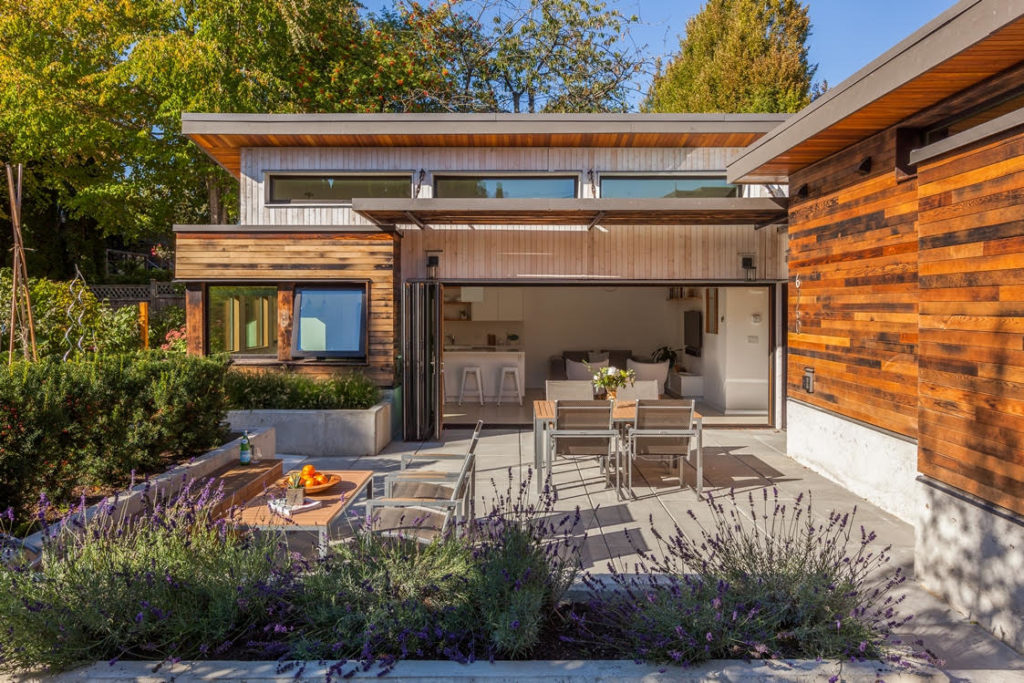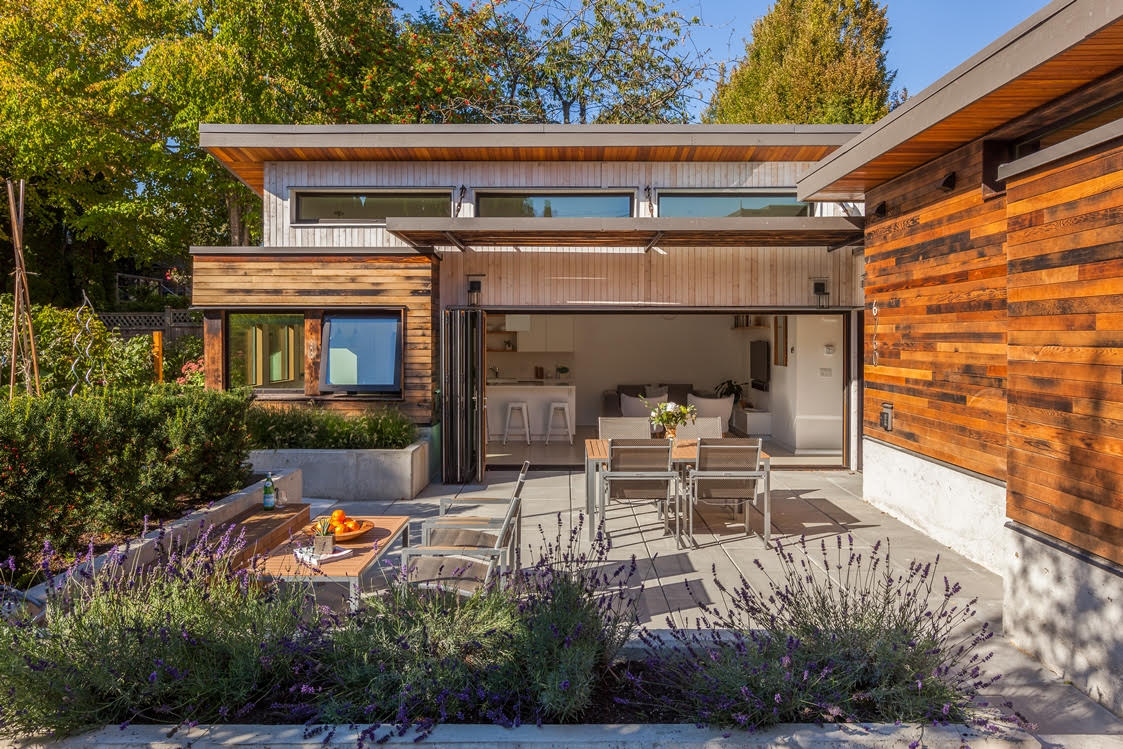 In a 2020 ADU owner survey, we found that the median statewide construction cost of an ADU is $150,000, or $250/square foot.
We found notable per square foot cost variation of the ADUs based on the unit type, number of bedrooms, type of financing used to construct these ADUs, and income of the property owner.
ADUs in the San Francisco Bay Area region are the most expensive to build, with a median construction cost of $177,500 ($329/sf). In the Central Coast region the median construction cost is $140,000 ($223/sf), followed by $130,000 ($200/sf) in Orange and San Diego Counties, and $100,000 ($197/sf) in Los Angeles County.
Homeowners used some combination of the following financing schemes to construct their ADUs: cash (53%), loans from a bank (43%) and money from friends or relatives (10%).
A majority (53%) of homeowners building ADUs rely on conventional loan finance from banks, while just 27% use a home equity line of credit.
About half (51%) of California's new ADUs serve as income-generating rental units, and 18% provide no-cost housing to a relative (16%) or friend (2%) of the homeowner.
Very few new ADUs provide housing for school-aged children (11%) or senior citizens (15%).
Only 8% of new ADUs in California are short-term rentals, though more affluent homeowners are more likely to list their ADUs as short-term rentals than those making less than $100,000 a year.
Of the tenant-occupied ADUs, 40% of tenants do not park any cars on the street and 46% park just one car on the street.  
The median rental price of an ADU in California is $2,000, ranging from $1,925 in the Central Coast region to $2,200 in the San Francisco Bay Area.
The overall affordability of ADUs varies by region. The median rental price of an ADU is affordable (less than 30% of household income) to the median household of two people in the San Francisco Bay Area and the Central Coast regions.
In most counties, we found that a large portion of units are available to those making less than 80% of the area median income (AMI), though the overall affordability varies significantly by county.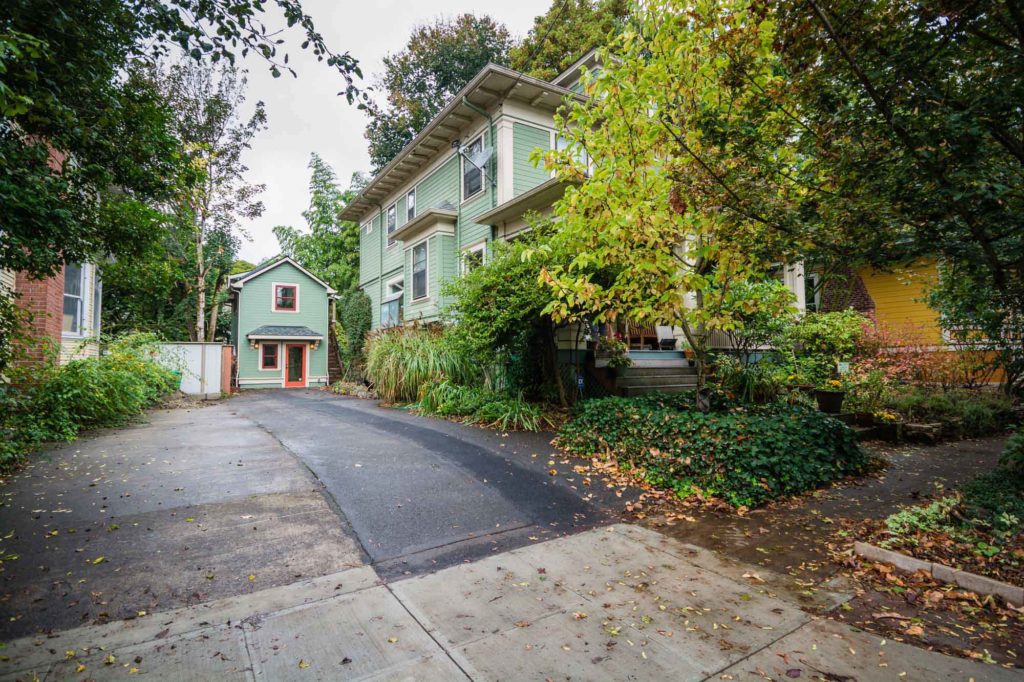 Approximately 86% of both the general public and elected officials are supportive of the state-level ADU legislation.
A growing number of jurisdictions have implemented best practices to eliminate barriers to ADU construction, such as offering ADU prototypes and pre-approved plans, building partnerships to help homeowners finance ADUs, offering ADU bonus programs, and providing financial relief in the form of fee reductions and/or waivers. 
Half (50%) of homeowners found it difficult to obtain an ADU permit. The top challenges that property owners face in building an ADU are the local approval process, design constraints or challenges, and the cost of construction.
The State Legislature has played an active role in reducing barriers to local approvals, such as enacting a 60 day approval timeframe, requiring objective design standards for ADUs, and limiting the breadth of land use regulations that jurisdictions can place on ADU projects.
Our research team recommends the following actions by state and local actors in order to foster meaningful ADU production:
Target outreach efforts and financial assistance to low-income homeowners and people of color.

We find that lower-income homeowners are more likely to have more tenants in their ADUs, and are less likely to use their ADUs as short-term rentals. Promoting ADUs to low-income Californian homeowners may result in the construction of more family-sized housing units.

 

Local partnerships among cities, non-profits, and other stakeholders have produced replicable models for targeting outreach and assistance to build ADUs for low income homeowners (e.g., My House My Home).
Promote more awareness among homeowners about the opportunity to build ADUs

. Some mechanisms that have proven effective in educating homeowners and increasing knowledge of local zoning and permitting processes are websites (e.g., secondunitcentersmc.org), resident-led workshops (e.g., the Berkeley ADU Task Force), and one-stop shops (as in San Mateo County). 
Provide technical assistance
Provide guidelines for local communities seeking to count ADUs towards their RHNA requirements. 

Not only do jurisdictions need a consistent definition of what counts for affordability, but also the State should put in place a system to monitor whether units remain affordable
Provide training and resources to local planners on how to write and implement local ADU ordinances that are compliant with state-level legislation. 

Support might take the form of skill-building training sessions, local knowledge-sharing events, or one-on-one consulting time.
Encourage ADU production via pre-approved ADU prototypes. 

Some jurisdictions seek to simplify the ADU permitting process for homeowners by providing pre-approved ADU plans. These prototypes reduce uncertainty on behalf of the homeowners and ensure that proposed ADUs will meet the jurisdiction's standards..
Introducing local amnesty ADU programs, or unit legalization programs, 

can also help bring informal inlaw units into California's legal housing supply while ensuring that these existing units meet all relevant health and safety codes.
Facilitate a smoother construction process for homeowners. 

Jurisdictions and nonprofit organizations can help to make this process better for homeowners by providing digital resources on navigating the construction process, matching homeowners with experienced contractors, and providing project management services or support groups to homeowners going through the ADU process. 
Make local permitting processes more user-friendly, and better assist unsophisticated homeowners with obtaining local approvals to build an ADU. 

This can include having accurate information (in multiple languages) on a dedicated ADU website, creating a local ADU team or point person to answer any technical questions, and offering pre-approved ADU plans. These efforts will help to remove barriers associated with permitting and local approvals. Jurisdictions should also make all relevant ADU requirements, not just the requirements of the planning departments, easily accessible to homeowners seeking to add an ADU in order to mitigate "surprise" regulations and fees as plans for an ADU move through the local permitting process. 
Explore areas for future State Legislation
Work with banks and credit unions to provide more appropriate loan products, 

particularly for homeowners without high home equity. CalHFA should take the lead in devising and promoting new loan sources.
Move forward with legislation to encourage missing middle housing development. 

As the state devises new regulations to spur the missing middle, it will need to provide resources and educate communities on how to implement the new ordinances.
Co-produce future state legislation with communities from across California's diverse regions,

 to ensure that language is flexible enough to accommodate different environments.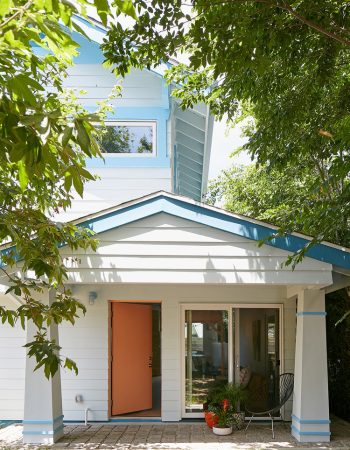 This research also created a grading criteria for local ADU ordinances across the state and assessed cities using this criteria in both 2019 and 2021. The resulting grades can be found here.
This website presents the findings of our multi-year ADU research efforts and does not constitute legal land-use advice.
Last Updated: June 30, 2021.